Meze Audio Empyrean ELITE Isodynamic Hybrid Array Headphones
NOW ON DEMONSTRATION
VISIT + LISTEN!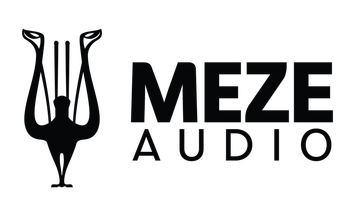 Description
Empyrean ELITE Isodynamic Hybrid Array Flagship Headphones, by Meze Audio
Combining an exclusive aesthetic with state-of-the-art engineering, ELITE delivers an accurate, authentic listening experience ready to meet the highest expectations of the proficient audiophile.
ELITE is the product of a continued partnership with Ukrainian planar magnetic driver manufacturer Rinaro Isodynamics. Each ELITE model features a newly designed MZ3SE hybrid array driver featuring Rinario's trademarked Parus diaphragm material. ELITE is the result of 3 years of research and development through which Meze Audio & Rinario strived to create a powerful, lifelike, and immersive experience that awakens the senses of the listener.
The MZ3SE driver builds on the pioneering technology of the flagship MZ3 driver found in the Empyrean headphone. The innovative Isodynamic Hybrid Array technology delivers a more selective acoustic performance to the various areas within the structure of the ear. Advances in diaphragm materials have opened the doors to even higher resolution and accuracy of the sound reproduction, setting a new benchmark in headphone design.
Parus is unique polymer film strengthened by a semi-crystalline microstructure. When harnessed within a Rinaro driver, the material exhibits remarkable traits of stiffness and stability, producing a natural sound transparency along with a wide and articulate soundstage.
ELITE utilises two separate coil technologies, switchback for lower frequencies and spiral for mid and upper frequencies. This specific configuration enables improved frequency targeting for individual parts of the aural canal, presenting a clearer soundstage and superior balance.
No less important is supreme comfort for the listener. The patent-pending suspension wings support system of the ELITE headband is elongated and curved at both ends, descending further on the side of the head and distributing the weight of the headphone evenly, for an utmost comfortable listening experience.
Each ELITE headphone ships with two distinct ear pad options which attach to the earcup assembly purely through the demagnetised field of the hybrid array drivers. 30mm Alacantara pads are supplied for an experience similar to suede, along with a newly developed 25mm 'hybrid' pads for real leather feel as well as the internal flexibility of Alacantara.
Taking long-term sustainability to a new level, ELITE is also fully serviceable: from replaceable ear pads to the high-performance materials used, every part on the headphone chassis is available to be easily disassembled and serviced.
---
15% Trade-In Discount - Limited Offer!
Get £599 off EMPYREAN ELITE when you trade-in your old headphones at Audio Sanctuary. Here's how the offer works:
Choose 15% TRADE-IN DISCOUNT from the Purchase Options selector.
Checkout and complete your purchase as usual.
Send your old headphones to our showroom. Please ensure your shipment contains a copy of your invoice, and is addressed to:
Meze Trade-In Offer, Audio Sanctuary, 35 High Street, New Malden, Surrey KT3 4BY
Upon receipt of your old headphones, we will check they are in working order, and then ship your new Meze headphones to you.
NOTE: Free accessory-style headphones (e.g. Apple Airpods) are not eligible for this offer. If you are unsure, please contact us before purchase.
Offer available while stocks last. Ends 24th June 2022.
---
Features
Ultra Low Distortion - Total harmonic distortion (THD) measures under 0.05% in the whole frequency range.
Lightweight - 75 g combined driver weight designed to create a headphone that offers prolonged listening sessions.
Ultra High-Resolution Audio - Upper frequency limit of audio reproduction is 112,000 Hz.
Rinaro Parus® Diaphragm - An innovative low-mass acoustic diaphragm constructed on an ultra thin bi-axially oriented semi-crystalline film.
Easy To Drive - 101 db @ 1 mw / 1 kHz / 32O hm - can be driven by almost any source without the need for amplification.
Patented Isodynamic Hybrid Array Technology - One of the most sophisticated and advanced planar magnetic technologies in the world.
95% Magnetic Field Shielding - Ferromagnetic earpads decrease the stray magnetic field affecting the listeners head by 95%
Invisible Locking System - Innovative use of the drivers magnetic field to keep the earpads in place.
12% Driver Power Increase - Patented ferromagnetic plates channel the magnetic field back into the driver increasing output by 1 db / 12%
---
Specifications
Driver Type: Rinaro Isodynamic Hybrid Array®
Operating Principle: Open
Ear Coupling: Circumaural
Frequency Response: 3 Hz - 112,000 Hz
Impedance: 32 Ω
Nominal SPL: 101 dB (1 mW / 1 kHz)
Maximum SPL: > 130 dB
Total Harmonic Distortion (THD): < 0.05%
Weight: 420 g
---
Included
Carrying Case: High-strength aluminium suitcase with foam inserts.
Earpads (Two Sets): 1x Alcantara, 1x Leather + Alcantara Hybrid.
Cable: Your choice of three options (2.5m with 6.35mm Jack / 2.5m with 4-Pin XLR / 1.2m with 3.5mm Jack).
---
More Information
Delivery and Returns
Your country is set to:
United States
Please call us for delivery options +44 (0)208 942 9124
| Shipping method | Delivery Time | Cost |
| --- | --- | --- |
Please be advised that we may upgrade your delivery to a better service if we deem it appropriate to designated destinations at no additional cost. Please view our
returns policy
.
*Quoted delivery times are estimates and apply to normal working days for in stock items.
Information
Headphone Features
Transducer Type:
Isodynamic Hybrid Array
Headphone Type:
HiFi Headphones

iPhone and iPod Headphones

Smartphone Headphones

Over Ear Headphones
Frequency Range:
3 - 112,000
Cable Length (m):
1.2m / 2.5m
Tags
Worldwide Shipping
Free UK First Class shipping on orders £ 99+
UK shipping from: £1.75
EU shipping from: £5.99
International shipping from: £5.99
Payment Methods
Paypal
Visa
Mastercard
All other major credit/debit cards
Our Advantages