Description
Due to the large success of van den Hul's The PATCHBAY B5 in its use as a general purpose audio interconnect, VDH have introduced The BAY C5 HYBRID: The coaxial (unbalanced) HYBRID version of the balanced The PATCHBAY B5.

Low priced and exhibiting an excellent price-to-performance ratio The BAY C5 HYBRID has been specially designed for general purpose and car hi-fi interlink applications.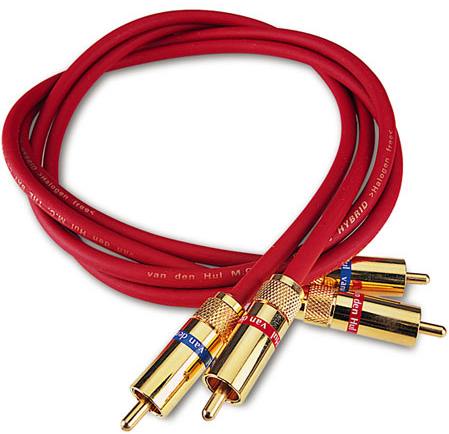 The BAY C5 HYBRID however is also perfectly suited for internal (pre)amplifier and mixing console wiring applications and as an unbalanced patchbay interconnect.

The design combination of a superior transmission quality, a low conductor-conductor capacitance, a very high screening factor together with a high mechanical flexibility and a long durability, though not being easy to manage, successfully has been achieved.

The high quality conductor material used in this cable is large crystal OFC with a dense silver coating.
The BAY C5 HYBRID furthermore has been fully equipped with Linear Structured Carbon ® (LSC) saturated layers which are standard in our more expensive cable products. These layers dramatically improve transparancy and imaging; By electrically bridging any metal cystal defects a stable conductivity at the lowest signal levels is obtained.

The coaxial construction is made with a center conductor consisting of 40 x 0.12 mm. strands exhibiting an effective cross section area of 0.452 mm² (AWG 20.6) and a resistance of 3.8 Ohm/100 meter.
The center conductor is coated with a layer of LSC and is insulated with foamed polyethylene.
The cable capacitance is 110 pF/m.
The double screen is made of a 16 x 6 x 0.12 mm. stranded braid with underneath a Linear Structured Carbon ® saturated layer to further close the cable against HF signals and to dramatically improve the signal quality.
The total resistance of the screen is 1.6 Ohm/100 meter.
The external 5.2 mm. diameter jacket is made of red coloured HULLIFLEX ® 4, a material with superior properties compared to e.g. PVC;
HULLIFLEX ® gives The BAY C5 HYBRID a very long life span without any ageing effects.
Delivery and Returns
Your country is set to:
United States
Please call us for delivery options +44 (0)208 942 9124
| Shipping method | Delivery Time | Cost |
| --- | --- | --- |
Please be advised that we may upgrade your delivery to a better service if we deem it appropriate to designated destinations at no additional cost. Please view our
returns policy
.
*Quoted delivery times are estimates and apply to normal working days for in stock items.
Information
Manufacturer:
Van Den Hul
Shipping
UK from: £1.50
EU shipping from: £2.95
International from: £3.95
View shipping rates for your country here
Payment Methods
Paypal
All major credit/debit cards (Visa, Mastercard)
Our advantages
Fast and insured shipping
14 days money back guarantee
VAT Free Purchases for non EU residents
London Showroom - Largest selection of headphones, earphones and portable players in the UK.